News
---
October 30, 2022
The highly successful 2022 edition of the National Reining Horse Association (NRHA) European Derby held during the renowned European horse fair Equita Lyon in Lyon, France, closed on Sunday with the $11,369-Added ELEMENTA Open Grand Prix.
This year's European Derby, open to 5-, 6-, 7-, and 8-year-old horses nominated in the NRHA Nomination Program counted a rise in the number of entries with riders representing Austria, Belgium, Canada, Czech Republic, France, Germany, Great Britain, Italy, Netherlands, Poland, Spain, Sweden, and Switzerland.
The $153,235 European Derby Open counted:
58 entries in the $61,294-Added L4
71 entries in the $45,970.53-Added L3;
70 entries in the $30,647.02-Added L2;
39 entries in the $15,323.51-Added L1
The $84,187-Added Non Pro Derby counted:
50 entries in the $35,039-Added L4
60 entries in the $24,574-Added L3
72 entries in the $16,383-Added L2
49 entries in the $8,191-Added L1
16 entries in the Youth
Competition ran deep in the Open Finals with two horse-and-rider combinations tying for the L4 Championship with a 228: NRHA Two Million Dollar Rider Bernard Fonck and Shines Like Spook (NRHA Seven Million Dollar Sire Smart Spook x NRHA Million Dollar Dam Ebony Shines), a 6-year-old gelding owned and nominated by Rosanne Sternberg, and Grischa Ludwig and M Snow Pearl (NRHA Million Dollar Sire SG Frozen Enterprize x Spooks Pearl), a 5-year-old mare owned by Fabian Strebel and nominated by La Maqueline. It took a 219.5 or more to be in the top 20 final rankings.
Markel/NRHA Sale Grads Open Derby Finalists:
• Dances With Spook (NRHA Seven Million Dollar Sire Smart Spook x Shining Dancer), owned by Margot Van Doorne and nominated by Rosanne Sternberg, ridden by Levin Ludwig.
• Dun Lost My Shine (NRHA Million Dollar Sire Shine Chic Shine x Dun Lost My Freckles), owned by Julia Schuberl, ridden by Morey Fisk.
• Angel On Fire (NRHA Million Dollar Sire Inferno Sixty Six x Lena Dun It), owned by Luga LLC and nominated by Stacey Huska, ridden by Mirko Midili.
• Spooks Gotta Deal (NRHA Two Million Dollar Sire Spooks Gotta Gun x The Rio Deal), owned by Lisa Schlatter, ridden by Markus Gebert.
Youth dominated the Non Pro Derby Championships with 18-year-old Sára Karasová of the Czech Republic riding to top honors in the L4 and L3 divisions aboard her KH Yankee Step—the pair scored a 223.5 for the win and also won the Churross Derby Youth. Taking home the L2 and L1 Championships, as well as Derby Youth Reserve honors with a 219.5 score was 9-year-old Emanuel Gebert and his Gunnalittlestep. Ten youth riders made the Non Pro Finals: three representing the Czech Republic, two representing Switzerland, two Italy, two Germany, and one Poland.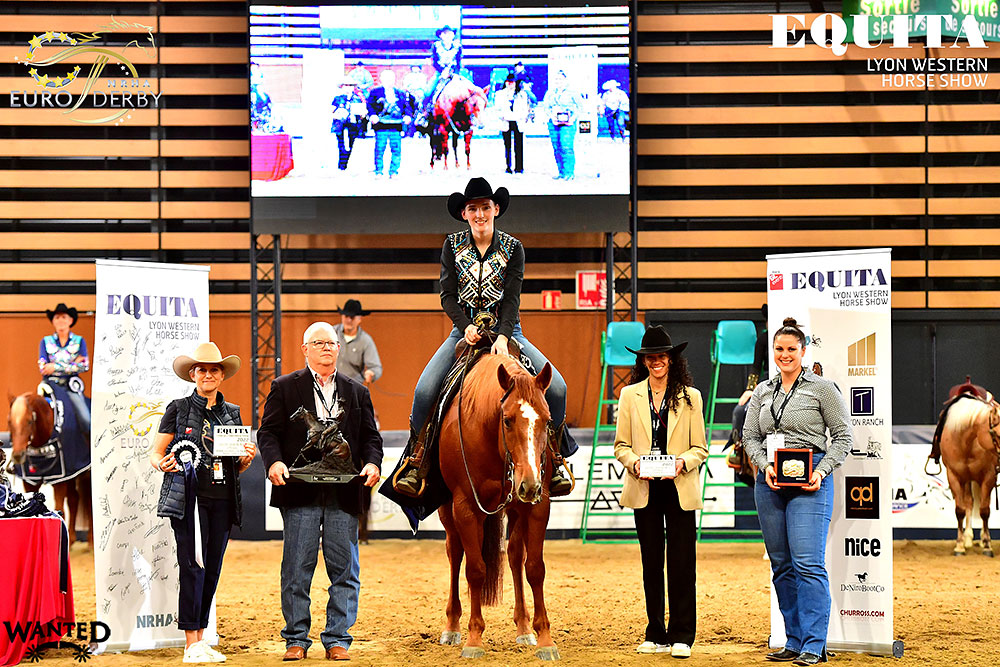 European Derby Novice Horse and APHA Chrome Cash Incentive Program
This year the inaugural and very well-accepted $3,000-Added LL Tecnologie Novice Horse Open Derby and $3,000-Added Gunna Sparkle Novice Horse Non Pro Derby divisions for horses that have less than NRHA $5,000 LTE (Lifetime Earnings) were introduced. For the second year running, the American Paint Horse Association (APHA) Chrome Cash Incentive Program offered $1,500-Added to both the Open and Non Pro L4 Champions.
$11,369-Added ELEMENTA Open Grand Prix
Once again the level of competition was high with Italian Nico Sicuro scoring a powerful run worth a 227.5 and the Open Gran Prix win riding Quarter Dream's Sugar Little Step (NRHA Twelve Million Dollar Sire Wimps Little Step x Ah Sugar Sugar).
Second place honors, with a 224.5 were for NRHA Two Million Dollar Rider Bernard Fonck and Nathalie Derua's ND Pop Gun Trash (NRHA Seven Million Dollar Sire Gunnatrashya x Pop Tart).
Anders Josefsson of Sweden closed his run aboard Annika Bootsman-Kleberg's Gotta Shiney Whiz (NRHA Four Million Dollar Sire Spooks Gotta Whiz x Cee Bee Shine) with a 221.5, enough to win both the Lambey Intermediate Open and the Deniro Boots Limited Open and Prime Time Open.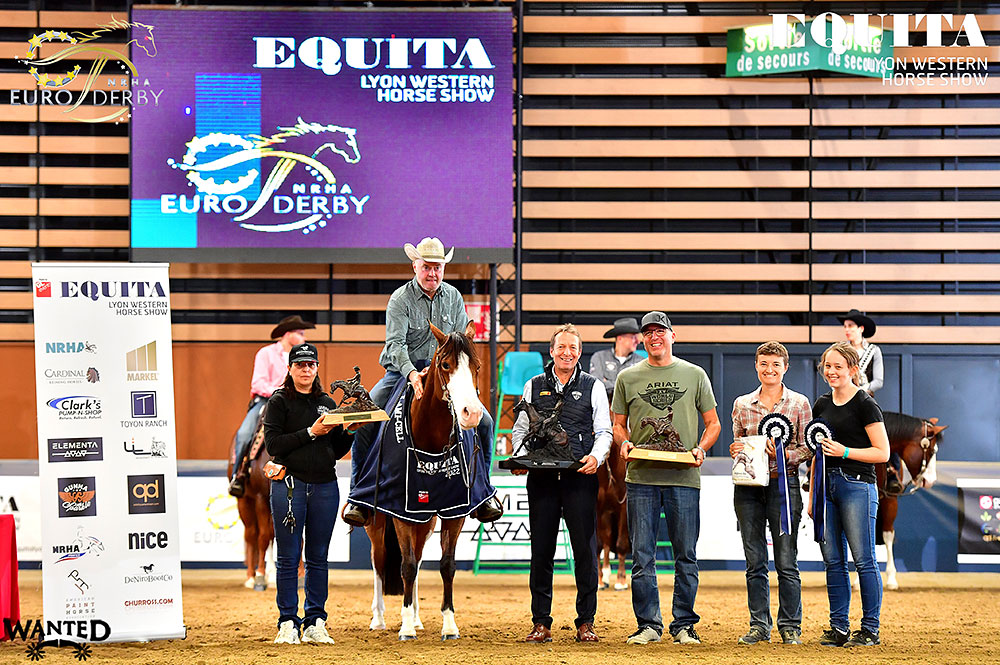 Quarter Dream NRHA Youth
In the Quarter Dream Youth 13&Under class, French Chjara Maria Gaffory and Zag Candy Step (NRHA Twelve Million Dollar Sire Wimpys Little Step x RS Candy O Lena) walked away with the Championship for their 206.5 run.
Alice Baldazzi of Italy rode Holly Jolly Whiz (Whiz Ruf Peppy x Smart Dolly Hickory) to a score of 212.5 to win the Quarter Dream Youth 14-18.
Quarter Dream NRHA Intermediate Non Pro & Prime Time Non Pro
French Laura Pouzol and Tricky Vobinda Whiz (CJ Whiz x RS Cayenne Jac) claimed the Quarter Dream Intermediate Non Pro with a score of 215.5.
Half a point behind was the Reserve Intermediate Non Pro Champion Ettore Baldazzi of Italy aboard PL Magnum Chic Chex (NRHA Million Dollar Sire Magnum Chic Dream x Nu Dynamite Chex), who also claimed the Prime Time Non Pro Championship.
A special thank you to the 2022 NRHA European Derby Sponsors:
GL Events
NRHA Global Partner Markel Equine, Official Insurance Partner of NRHA
NRHA Global Partner Toyon Ranch
NRHA Global Partner Clark's Pump-N-Shop
NRHA Global Partner Cardinal Ranch
LL Tecnologie
ELEMENTA
Quarter Dream
Gunna Sparkle
DeNiro Boot Co.
Nice
Churross.com
APHA Chrome Cash Incentive Program
For complete results: https://www.showmanager.info/Eventliste.aspx?turnierID=1175
For further information: NRHAEUROPEANDERBY.com
Photos by Wanted Photo Press
NRHA European Derby Media Contact:
Simona Diale / International Horse Press
internationalhorsepress@gmail.com
Cell: +39 340 5354629